Alright . . . you've hopefully been working on the 1st appetizer challenge, your appetite is revved up, and you're ready to go!
Are you ready for the
1st MAIN COURSE THROWDOWN CHALLENGE!?!
HERE WE GO!
I'm making a conscious effort to eat healthier, and it's working for me so far! I love this site:
Skinny Taste
.
This not only looks good, it IS good:
Chicken Fajitas
Chicken Fajitas! YUM!!!
(1) Chicken and tortillas are both pale in color. I want you to use a very pale neutral as your background. It doesn't have to be plain cardstock, it can be a ledger sheet or a small patterned sheet, as long as the overall look to it is pale and neutral. Tortillas are also round, so if you would like to also add a circle to your layout, go right ahead! However, the pale color is the only requirement for this challenge!
(2)
Red
and
green
peppers cut into strips. I cannot eat green peppers, because they are the one food that seriously gives me heartburn! In this recipe, you can use one or both, but you must have some kind of red or green strip of paper. You can use any other colors you want too, but you must use red or green strips of paper!
(3) Lime juice! In my opinion, no chicken fajita is complete until you put freshly squeezed lime juice on it! So, I want you to add a "juice". A mist, a paint splatter, a confetti splatter, dots of Stickles . . . something!
Here's my example: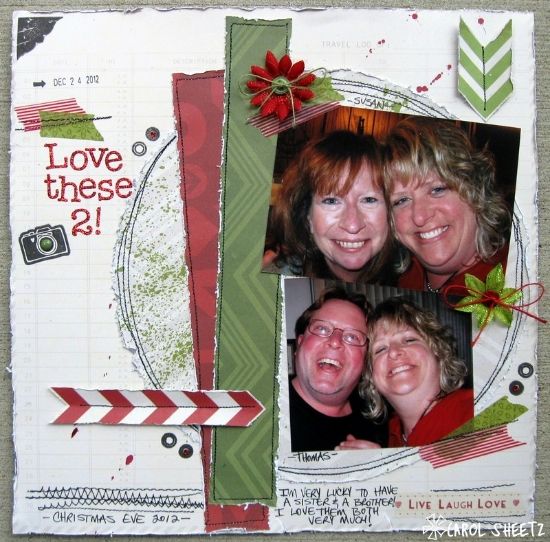 (1) Pale in color = both my background and my circle are pale in color. I also added a big circle. I love the two neutrals stacked on top of each other!
(2) Red and Green paper cut into strips =
I had fun with this!
This is a TRAVEL collection, and yet I created a Christmas layout! How fun, crazy, and versatile is this!?! I had a lot of fun with some washi tape and with chevrons that I made into arrows! Red and Green touches are quite prominent on this layout. Remember, you only need to use red OR green. You do NOT need to use both!
(3) Lime juice = Mister Huey's on my tortilla!
I used an awesome green mist on my circle layer! I also used some red splatters on my background sheet!
I used my AMAZING June DT kit which features Simple Stories Urban Traveler! Love this collection!
Create a NEW project for this Main Course Throwdown!
Upload it to the gallery and link it back to this thread in the forum!
Entries are due by Wednesday, June 12th!
HAVE FUN!!!