Since summer is in full swing, what could be better than a bite size caprese salad. What is that you ask?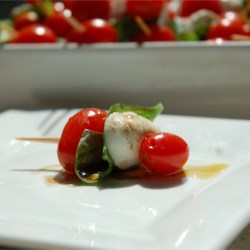 It can be as simple as a toothpick with cherry tomatoes, mozzerella and a piece of basil.
My challenge for you is to make a tag with the foillowing recipe
Circles to represent the tomatoes
Squares to represent the mozzerella
And leaves for the basil
Here is my example
Create a new tag, upload it to the gallery and link back to this thread by June 26!
Enjoy!