This week, our final week of LSS, the contestants were asked to...
1. Use as many of the past challenges on this layout as possible (hearts, embossing, edges, typography, and fussy cutting).
2. Create without any use of photographs.
So what did our contestants create, here is a look at their layouts - make sure you jump back over to the forum to cast your vote!
Emboss- Blue pp, top journal piece and scallop
Edges- Distressed, inked and scallops
Fussy Cutting- Flowers and brown piece above heart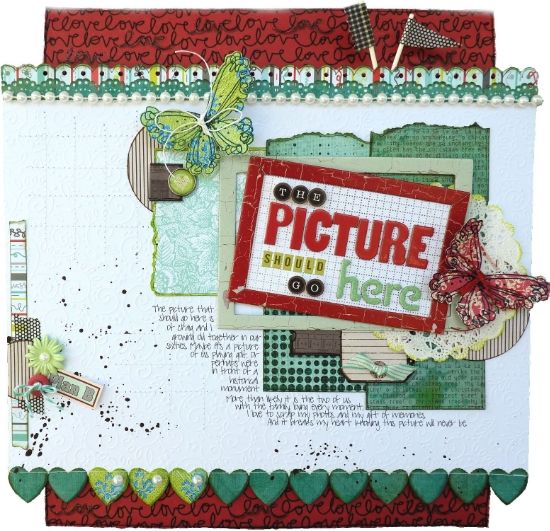 Hearts - I cut hearts, inked the edges, then adhered them as a 'decorative edge' along the bottom of my white paper.
Typography - Used (4) different alpha's to create my title (in lieu of a photo). One of the paper strips behind my mat is a text paper. The top and bottom red strip is an old Elsie 'love' script pattern.
Fussy Cutting - I used an old butterfly stamp I have to stamp onto patterned paper with Versamark. Then I clear embossed the image. The butterflies were fussy cut. Then I wrapped their 'body' with twine and tied them leaving long 'tails' to suggest antenna. Cute, huh?
Embossing - As I stated above, the butterflies were stamped and heat imbossed. I highlighted the word love several times (on the red paper) with a glue pen, sprinkled them with clear embossing powder and heated them for added texture and dimension. The white background paper is a heavily embossed pattern from Doodlebug.
Edges - I started by making the red background narrower than the white layer. Then I distressed and outlined the edges. Used (2) Fiskars border punches for the top strips above the white. Glued a string of pearls to the top edge of the white. Tore and inked the edges of the layered papers behind my title. Stitched the heart border to the bottom edge of the white in lieu of doing a scalloped edge.
3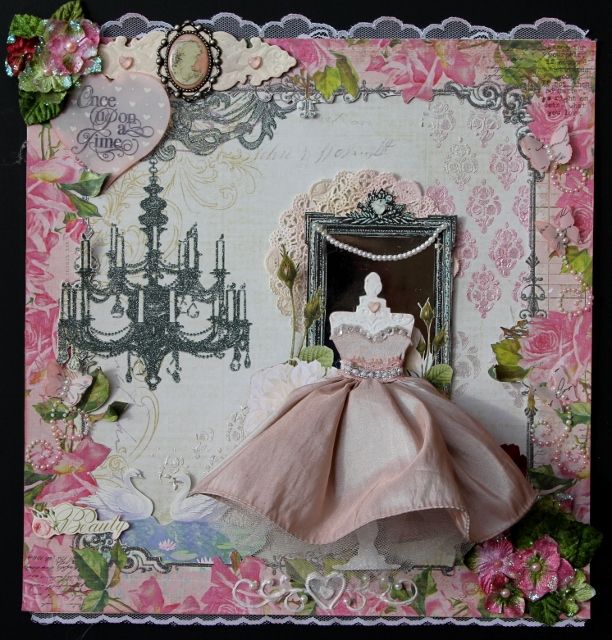 HEARTS-- Crystal hearts on the EMBOSSED chipboard on the upper left, HEART on the neck of the dress form
Liquid pearl heart beneath dress form, upper left Heart with typography on it- printed on hear vellum.
Edges- lace edges, inked edges, fussy cut edges of frame
Embossing- liquid embossing upper right damask and lower left--done in ombre fade effect- embossed frame upper left and embossed dress form
Typography-- stamped script in random spots and script on butterflies on left side of page, "Once upon a time" on upper left, Beauty on lower left
Now everyone hurry back to the forum and cast your vote for your favorite layout - yep, only 1!