Hello there fellow scrapbookers! I've got another sketch to, hopefully, inspire you.
This month, I stuck with Becky Fleck's sketches from (December) Page Maps. They were very inspiring for me and the photos I wanted to use!
The sketch that I have for you to work with today: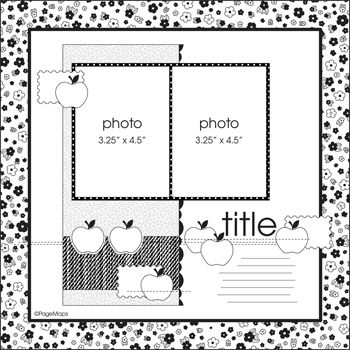 And my take on this sketch:
For my page, I took this sketch and altered it a bit to fit my needs. In the sketch, there is a strip of paper that runs down the left side of the page. I rotated that strip and it's embellishments 90 degrees and put it underneath the other patterned paper and my photos. I also put the title in the upper left hand corner instead of under the photos, like in the sketch.
I would LOVE to see what you create with this sketch -- so
head on over to the forum
to see what others have created with this sketch and join in, you have until Jan 31st to participate in the Sketch-a-Thon challenges.