Wendy here with your last appetizer/dessert challenge of our Throwdown Contest! I decided not to give you an appetizer challenge, but instead a dessert challenge. We are a very structured family, that runs on a tight schedule, but
there is one rule I love to break, I love to eat my dessert first!
So, my challenge for you is to make my favorite dessert!
I love Angel Food Cake!!!!! It is so fluffy and light. I love to eat Angel Food cake alone, iced and decorated as my grandmom used to do for me every year, I love to eat it layered in a truffle with fruit, I just love Angel Food cake. So my challenge is to design a card based on the light and fluffy dessert. You may have plain cake, iced cake, layered cake, fruit with your cake, whatever you decide, but show me some fluffiness!
I made this card using some American Craft stash and a doily. My doily reminds me of my angel food cake, round, white, frilly and delicate and totally light. I used some flowered paper b/c my Grandmom made lovely icing flowers and a pretty pink pinwheel to help establish the light and airy feeling!
I also created this card using some Pebbles. Again you will find my doily, but this is a layered card because I do love layering my cake with pudding, cool whip, and fruit!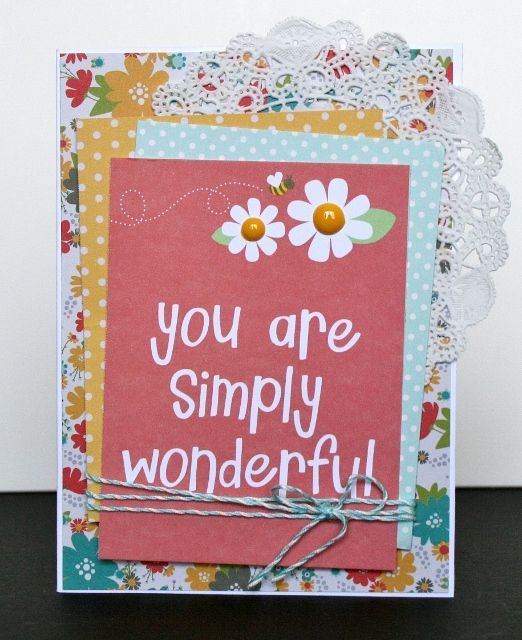 So have fun creating a card using my favorite dessert, Angel Food Cake! Don't forget to
visit the forum
and join us and see what every one creates for this challenge!