Hi Everyone! It's Carol! I hope you all had a BLAST with the NSD Color Your World Crop! I loved it! We're back to our regularly scheduled program!
Let's get going with our May challenges! I'm starting us off!
OK, I know I'm no Becky Fleck (<---- or insert favorite sketch artist name there!), and I don't have fancy computer programs that I can use in order to design sketches, but I can draw on white cardstock with a Sharpie, so here's an original Carol Sheetz layout sketch for you.
I kept it very simple with clean lines, so there is A LOT of room for interpretation and ways for you to make this your own! I hope you like it!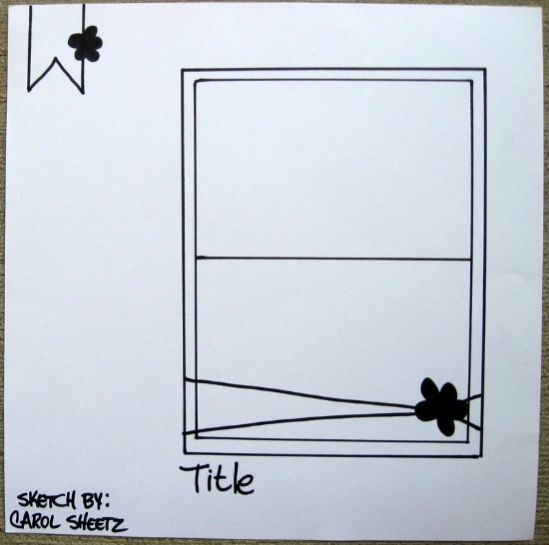 Here's my layout based on my sketch!
I used my DT kit which features Fancy Pants Trendsetter! I changed up the shape and the size of the banner, I added a larger embellishment cluster on the bottom right, I added tulle instead of ribbon, I used one photo instead of two, and I double matted to draw even more attention to that awesome photo!
So, what do you think? Can you work with this sketch? Turn it, flip it, change it up . . . I hope it inspires you just a little.
Create a new layout or 2 cards for this challenge.
Upload your layout to the gallery and link it back to this thread by May 31st.
As always, HAVE FUN!