Hi everyone! Colette here. Oh my goodness! What a fun month we're having here at Memorable Seasons! And the highlight for me is being the Guest Design Team player for May! I was tickled to bits when I was invited to join the talented Memorable Seasons DT for a month. AND ... I was even MORE excited when I discovered I was going to be working with some
Fancy Pants
products for my projects!
How did they know that Fancy Pants is my favorite manufacturer? It seems I love nearly everything they produce. And,
Down By The Shore
is no exception. It's another winner, in my book. I love the bold colors, fun patterns and the little bit of whimsy of this line and really enjoyed playing with all the products.
Just LOOK at the awesome stuff I got in my kit! Seriously ... it was like peeking inside a
C
I
R
C
U
S
tent!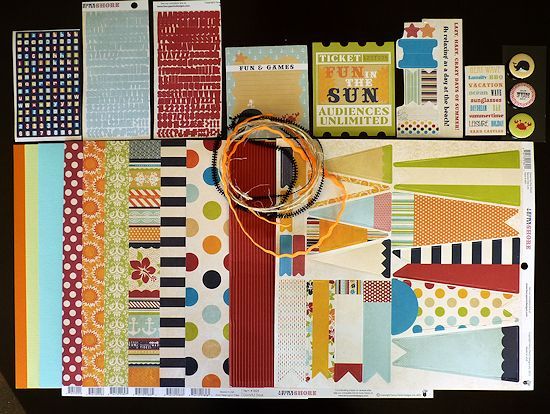 And the reverse sides were just as good!




And, I couldn't help myself ... I just had to order some extras that I thought would coordinate well with the items in my kit! And while I wasn't sure what I was going to do with them ... I never do until I actually start scrapping ... I know that they'll be fun to play with ... if not this month then on future projects for sure!




I could barely wait to tear into the red corrugated paper! You know how I'm obsessed with texture on my pages and the red cardboard was so easy to work with ... and a lot less messy than painting plain cardboard.

Manufacturers go to a lot of trouble designing products within a line that coordinate with each other. The 12" sticker border strips is a perfect example. Each one cute on it's own .. but I wanted to use them together. So I created an outside border on my page using four of the sticker strips. Then, the red corrugate paper became my base for layers of patterned papers.

I must admit, I was a bit intimidated by the anchor pattern. Somehow I had it in my head that I needed a 'nautical' photo or theme to be able to use the anchor pattern. Until I realized that the anchors are just another repetitive shape and there was no reason not to use it like I would any 'geometric' pattern. I popped that up by mounting it on a piece of foamboard and then finished it off with some random splatters, drizzled glitter, and a couple of cute embellishment clusters.




Well, after completing the first page I had some strips of red corrugate laying on my desk that had been trimmed off from the first project. I'm not one to let a good scrap go to waste so I decided to create a corrugate border on my next page. This time I started with the reverse side of the Echo Park number pattern as my base. Then added 1/2" red corrugate strips as another layer.

My photo for this page is about our pathetic attempt to take an arm's length self-photo with an iPhone. It turned out blurry and unflattering. But, that's NOT going to stop me from scrapping the moment. I figured I could get a little 'grungy' with this page and wanted even more texture to the background. I've got a Tim Holtz brick embossing folder that I thought would be cool. But, I could only emboss a 4 x 6 area at a time. And it couldn't be any wider than 6" or it wouldn't run through the Big Shot. So I cut my paper in half, embossed each piece a couple of times to cover the majority of the surface, then adhered both pieces to the page butting the seam together. It wasn't going to be a problem because I knew that most of the 'seam' would be covered up with layers. I finished the background by doing some random stamping and splatters on the embossed brick, then adhered it with a few strategically placed strips of washi tape.




Another fun thing I did on this page was to use the Fancy Pants packing as the pattern paper behind my photo. The 'patterned stripe' is actually the photo jacket that lines the inside of the package when you buy the full line of Down By The Shore papers! Like I said ... I don't let ANY good scraps go to waste! bbwahahaha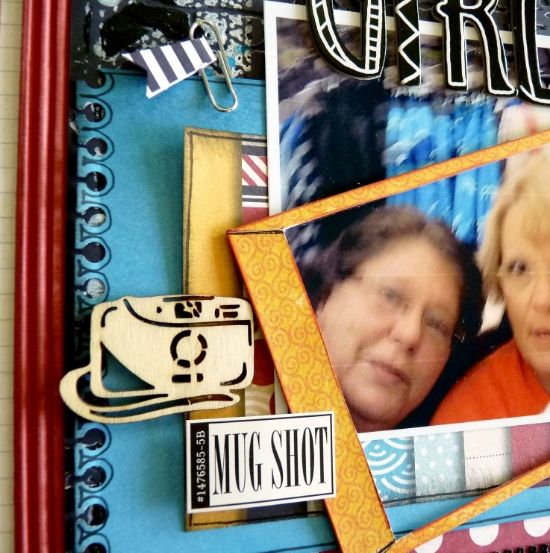 Down By The Shore

suggests beachy photos. And this line DOES have a tropical feel to it. But, sadly, we're no where near a beach here in Arizona. The next page features a photo of my peeps on a very hot Arizona afternoon last summer. We went to a local resort for the weekend to celebrate my birthday and sunburned faces, swimsuits and flip flops is what we consider tropical around here!




A few highlights on this page? The 'faux embossed' orange strip of paper on the right where I die cut some journaling from the paper then adhered the letters to another strip of the orange. And, isn't that little string tie envelope so cute? It even holds the souvenir room keys from the weekend. Can you spot another border sticker strip? And, did I mention how much I love this red corrugate paper?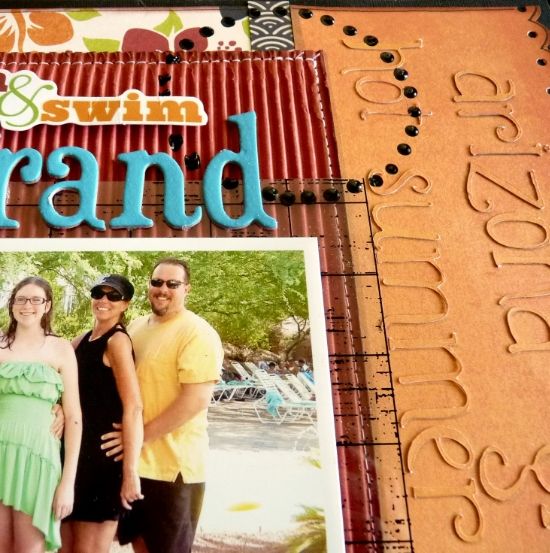 Okay, it's pretty easy to see that I'm having a blast playing with these papers! And, I'm loving how the pages are turning out. But, I felt like I had to at least attempt to do something with the octopus and the whales! bbwwahahaha Thankfully, I was able to into the Memorable Seasons gallery for some inspiration!



Lisa B

is our Memorable Seasons Member Of The Month! WooHoo! And, I definitely wanted to play along in that challenge! So I headed over to Lisa's gallery to find something to lift/inspire. It was tough to narrow it down to just one.




But, I had this photo of cousins in the pool and the orientation worked with this layout by Lisa and allowed me to get a little octopussy and whale-ish on the page! ohhh, isn't this just so stinkin' CUTE??!!! And, adding some googley eyes to the creatures sure didn't hurt the cute factor.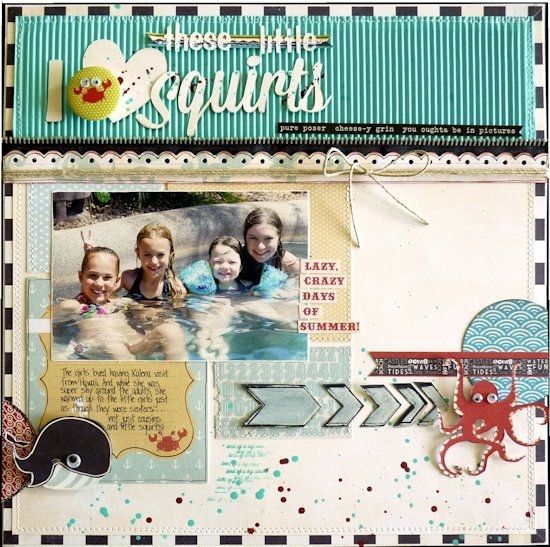 Now just tell me ... who wouldn't love to get this card? Especially if there was a gift card tucked inside the little bag on the front!!!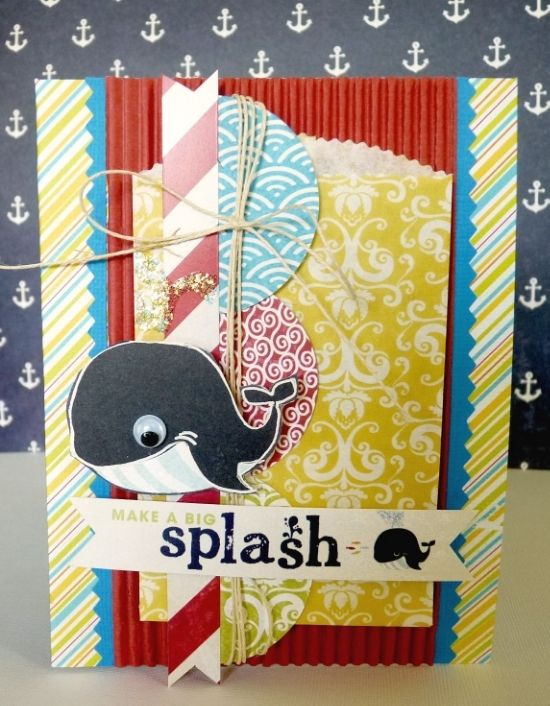 Can you tell how much fun I had working with these awesome products? Seriously, I would highly recommend you get your hands on some

Down By The Shore

and play! It's been such a privilege to hang out with the DT this month and I want to thank Wendy and the awesome creative staff here at MS for the opportunity. But hey, we're not done yet! Stay tuned for a couple of fun challenges that I'll be throwin' your way this week!