I am SO EXCITED to be issuing a LSS challenge! I love this contest! I am so inspired by seeing what everyone comes up with for these challenges!
You already gotten your HEART on, and you showed us all who was the BOSS with the embossing challenge . . . are you ready to . . . LIVE ON THE EDGE!?!
My challenge for you is to
LIVE ON THE EDGE!
So . . . what do I mean by that!?! Well, have you ever thought about what you can do to the edges of all of the various elements that you put on your layouts?
Take a look at my example: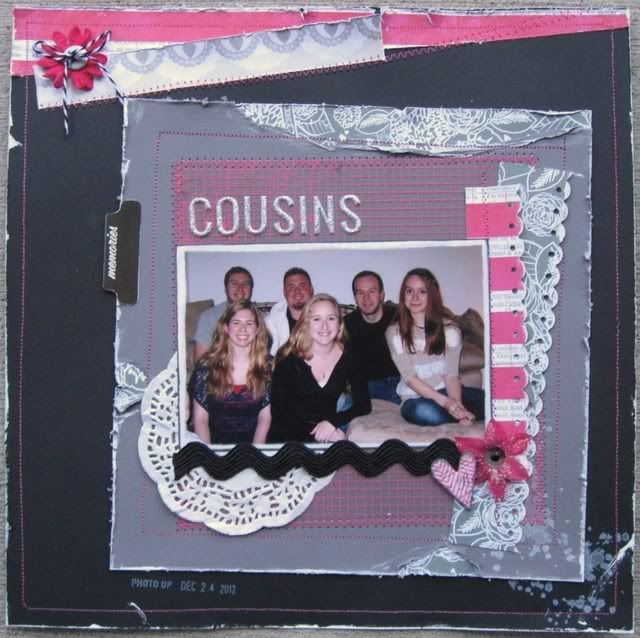 Here are some things that you can do to edges:
* sand them (look at the photo on my layout!)
* sew on them (my transparency)
* distress them (my background sheet and all of my layers)
* paint them (my background sheet)
* do a patterned paper "peek" (take a look at the peeks under the grey square layer!)
* ink them (after I sanded around my photo, I inked the edges)
* frame them (I sewed a frame around my background sheet and the grey layer)
* border punch them (I added two border punched strips to the right of my photo)
* stamp on them (I added a Tim Holtz splatter stamp in white in a couple of spots)
* create visual interest on your background sheet (I really LOVE the fun detail I added along the top edge of my background sheet!!!)
I did ALL of these "edge" treatments on my layout! Can you see them all!?!
There are so many other things you can do! You're limited only by your own imagination!
I am THRILLED, because my example page turned out better than I could have expected! My daughters think this page is just AWESOME, and that makes me happy!
Your LSS #3 Challenge is to LIVE ON THE EDGE!
* Add visual interest to your layout by coming up with fun ways to alter the edges of some of the elements you add to your layout!
* Tell us the EDGE treatments you added to your layout!
* BE CREATIVE!!!
* Create a NEW layout for this challenge!
* Upload your layout to the gallery and link it back to this thread!
* Have your layout posted by 02/27/13 by midnight!
* Most importantly ENJOY & HAVE FUN!!!
I cannot wait to see what you CREATE!!!