This month at Memorable Seasons we are sharing both a card challenge and a layout challenge each week, I chose to issue my challenges based on Quilting! I pulled these patterns a long time ago, but never took the time to figure out how to do them so I started with my Harvest Lane Simple Stories kit.
Card Challenge:
Welcome to your first card challenge of the month! I know a lot of you don't make cards, but it can be fun to try new things out on a smaller canvas before jumping in to a full layout. So with that thought in mind, I decided to try a quilt pattern that I printed out awhile ago (
http://davinie.blogspot.com/2010/08/cat ... paper.html
). It took awhile to figure out how to best do this pattern, but by the last circle it looked great!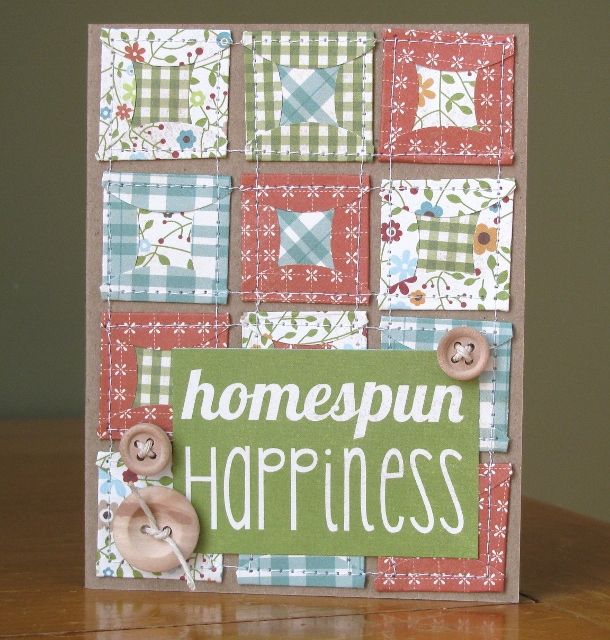 Here are some tips I found, b/c this was a pain in the butt at first till I caught on...
1. If your paper has a grid/line pattern - you must line up your folds or even if your square is straight it will look crooked (check out some of my orange squares).
2. I used a 2" circle punch and creased about a 1/4" on each side - a 1" square wasn't quite big enough inside the circles, but since I sewed my edges down you couldn't tell (1.5" square would have been too big).
3. I did not use double sided paper (I was using my 6x6 pad) so I had to put a square of paper inside, but if you do use double sided paper you could skip this step.
4. I creased all of my sides with my Martha Stewart scoring thing - much easier!
Layout Challenge:
Now that you all have practiced your quilt pattern in a smaller scale it is time to make a layout using a quilt pattern (it does not have to be the same one). Here is the quilt pattern that I used for my layout,
http://www.allfreesewing.com/Sew-a-Quil ... Quilt/ml/1
. I started a pin board with some quilt patterns here,
http://pinterest.com/antenucci/quilt-patterns/
You have until October 31st to come on over to the forum at
Memorable Seasons
and link up your projects!